500 miles for Flying middle-seat with Delta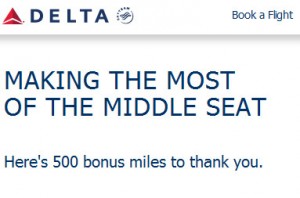 There's nothing more uncomfortable than to be on a full flight, and to be the one stuck in the middle seat.  Life just sucks for the duration of the entire flight.
But after my last uncomfortable trip from DTW to SEA, I had a nice surprise the next morning. Delta credited my account with 500 miles because I had to ride bitch.
I'm not sure of the details on this. The email referenced the "Monday blues," so this promotion may only happen on Mondays. I'm also Gold Medallion right now, so they may only be offering this to frequent travelers.  YMMV on this one.

Mondays are tough, and we're sorry yours may have been less comfortable when you ended up stuck in the middle seat.

While we strive to give our most loyal customers our best seats, unfortunately, that's not always possible. To thank you for your flexibility and understanding, we've credited 500 miles to your SkyMiles account.

It's just one of the ways we're expressing our appreciation for your loyalty to the SkyMiles program. And we'll continue to take care of you—from booking to baggage claim and everywhere in between.

So thanks again. Next time, we hope to see you in First.